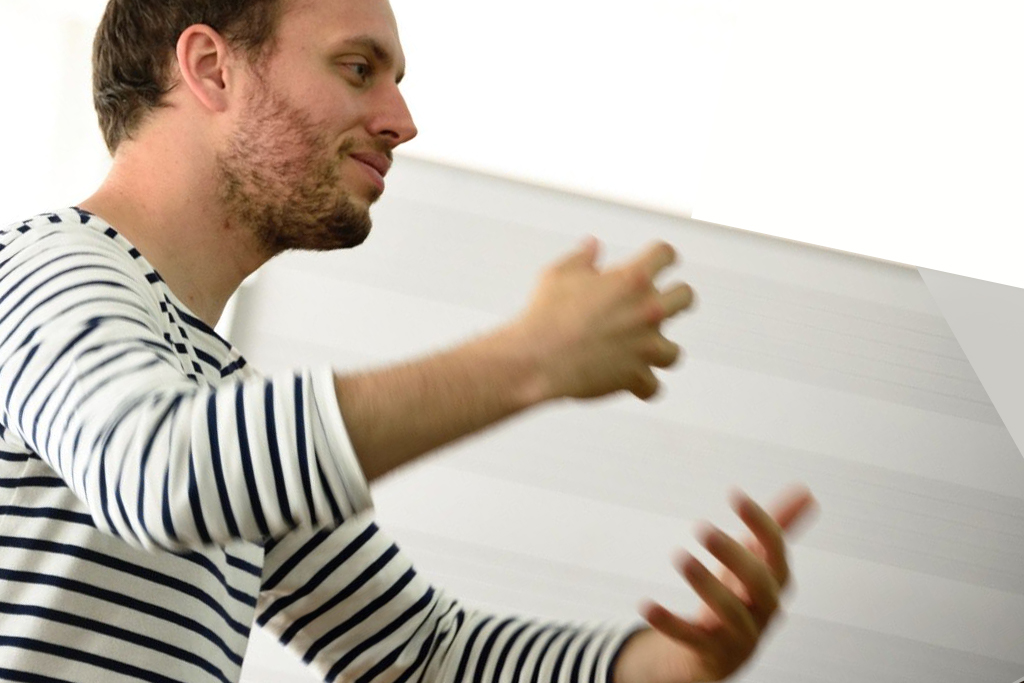 09 Oct

Why is singing a necessity?

Honouring the art of choral singing means working for it to benefit everyone, everywhere: in schools, medical establishments, in rural areas…. The singers and their conductor try to be as active a force in this movement as possible, motivating people to sing through their training sessions with conductors and singers in amateur and semi-professional groups.
Interview with Mathieu Romano
What does the necessity for singing really mean? What is it that motivates your desire to spread vocal music?
For the Ensemble Aedes it stems less from a necessity than from an intense desire to reach out to audiences everywhere, to foster singing wherever it can bloom. From the very beginning of Aedes' journey, we have felt this desire to go beyond giving concerts, by offering to work with our audiences and to bring music to places where there isn't enough of it.
We need art and culture in order to cultivate our spirit, but sometime we have no access to it, or we deny ourselves this access. I feel it is important that artists should work to reconnect society with this necessity. The more so because there is nothing more simple, more direct, than singing! Singing reconnects you with your emotions. It is how the human soul expresses itself through the voice, which incidentally is why it can sometimes be difficult to allow ourselves this form of freedom.
What are the benefits of group singing?
Singing is intimately linked to the body. The voice is the instrument which gives us life, connection and unity. Singing is a physical and psychological as well as a musical experience. For how can we possibly sing without expressing, articulating and asserting ourselves?
Through our outreach projects we often observe the physical benefits which singing confers. For example, in our concerts in retirement homes, we often find our listeners breaking into song along with us. We can see clearly that as they reconnect with this faculty and with the emotions it evokes, they start to move again, they become centred in their bodies again, more awake to the world around them … such a liberating force! The power of singing also lies in that fact that it teaches us to listen both to ourselves and to each other. Singing together does not mean losing your individuality in the group, but on the contrary, harnessing the force of your own personality to enhance the group.
How could we enhance the presence of choral singing in our society?
Why obviously, by starting to sing in earliest childhood. The Ministry of Culture's Plan choral works towards this goal…. It is the only way to make us aware of the idea that art and culture are at the very core of everything. But to take this idea on board, it is necessary to feel it. When I was at school, we all sang in a choir together once a week, and these are amongst my most wonderful memories.
How can the Ensemble Aedes promote the spread of choral singing?
This year will see more major projects in partnership with our two residencies, the Cité de la Voix in Vézelay and the Théâtre Impérial in Compiègne. Under the aegis of the Plan Choral, we are working on a participatory opera, a long-term project involving primary and secondary schools and technical colleges in the Haut-de-France region, which will culminate in a performance at the Compiègne Theatre in 2020.
At the Cité de la Voix, we have set up academies for singers and conductors emerging into the professional sphere. But there also other projects all the year round, such as our singing workshops in primary schools in Auxerre, a Choral Singing day where we will run workshops and discovery sessions for children….
With the Voice Brigade, we work with amateur choirs whom we invite to perform the first half of one of our concerts. Since Aedes was first founded, we have provided regular training sessions for amateur singers and conductors. I believe this is the best way to encourage and spread the practice of singing.
Moreover, thanks to the Tournesol Foundation, we are heavily involved in hospitals and retirement homes, both giving concerts and singing at the residents' very bedsides. At the moment I work once a week for a company choir…  spreading the word is a full-time job!
What is your happiest memory of an encounter you made through singing?
There are so many to choose from! I remember a young pupil in a secondary school where we were holding a discovery session on singing.  He had been particularly recalcitrant and hostile, he thought singing was "rubbish". At our last session, he came up to ask me whether he could sing a Poulenc song we had learnt together all by himself, in front of the whole class.  It was a magic moment.
More recently, we were giving a quartet concert in a retirement home. At the end of the concert, a couple from amongst the residents asked whether they could sing something as well.  They came up on stage and struck up a love duet:  it was deeply touching!